Clothing and Equipment Checklist
The following is a list of suggested items to bring for a successful fishing trip in Canada.
General Packing List
soap, shampoo & toiletries
clothing and personal items (layers are best)
rain suit
rain boots
camera, film & batteries
fishing rods and reels
well equipped tackle box (especially jigs)
small first aid kit
charcoal  and lighter fluid for grill
sunscreen
bug repellent
wide brimed hat
fillet knife and sharpener
pliers
groceries
You may also want to bring (but it is not necessary…)
GPS
Cellular phone
fish scale
golf clubs and balls
polarized sunglasses
tasty malted beverages
dog biscuits for camp mutt
Fishing  Tackle List
(What we recommend)
Walleye
Ultra light to Medium action rod

6 to 12 lb test line

1/8 oz to 3/4 oz jigs of assorted colors

lindy rigs

bottom bouncers
Northern Pike
Medium to Heavy action rod
20 to 60 lb test line
quality leaders
various baits
Lee's Top Picks
Johnson Silver Minnow

Suicks

Rattle Trap
Links & Resources
Below are a number of links to common sites that may help you plan your fishing trip to Ontario.  If there is an agency or business that is not listed, don't hesitate to give us a call, we may be able to help!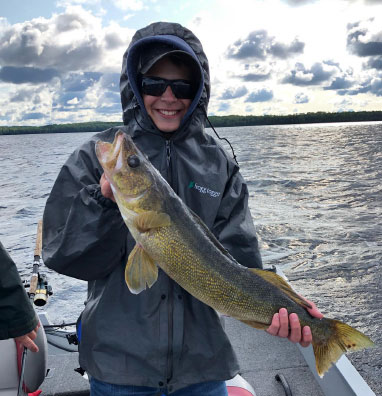 Hotels Along The Way
| Hotel | Phone Number |
| --- | --- |
| AmericInn Lodge, Orr MN | 1-800-860-3613 |
| Super 8 Motel, International Falls, MN | 1-800-523-8620 |
| Best Western, Dryden, ON | 1-888-394-BEST |
| Bayview Hotel, Vermillion Bay, ON | 1-807-227-2603 |
| Natures Inn, Balmertown, ON | 1-807-735-2626 |
| Northside Motel, Vermillion Bay, ON | 1-807-227-5339 |
Camp recipes for Great Walleye and Northern Dishes
Recipe Title
Recipe Instructions

Fish Tomatoes and Onions on the grill

Serves 2-3 ppl

4 small fish filleted
Extra virgin olive oil – 1 Tbs
Salt and Pepper – to taste
Garlic cloves – 2
Tomatoes – 4
Onions – 2

About 2 hours before hand, place oil, salt and pepper, minced garlic in a bowl and add the fish fillets.  Mix around until all the fillets get coated.
Cut tomatoes in half and onions in large pieces and place in the same bowl as fish and coat with mixture, add more olive oil if needed.
Get your grill really hot and place onions on grill.  About 5 minutes. later flip onions and put the tomatoes and fish on the grill.  Let cook for about 8-10 minutes until the fish flakes easily.  Carefully lift fillets off grill and serve meal immediately.

Best Shore lunch fish

Serves 2-3 ppl

4 small fish filleted
eggs – 2
Hot sauce – to taste     (preferably Franks Red Hot or Challoula)
Cornflake Crumbs – 1/2 box
Shore Lunch brand breading – 1/2 box (small box)
garlic powder – about 1/2 Tsp
Paprika – about 1/2 Tsp
Oil for frying
2 large Zip Lock Bags

Place fillets in 1 zip lock with eggs and hot sauce.  Make sure all the fish gets coated.
Put the rest of the ingredients in the 2nd zip lock and shake to mix.
After fillets are coated in egg mixture, place in breading bag a couple of fillets at a time and shake.
When oil is hot (test by dipping corner of fillet in oil, if it sizzles it is ready) Place fillets in hot oil, try not to touch them together.
Fish is done when golden brown, only about 4-6 minutes.

Beer batter fish

Serves 2-3 ppl. Warning:  Excessive drinking of Labatt Blue may occur

4 small fish filleted
Flour – 1 cup
Baking Powder – 1/4 tsp
sugar – 1 tsp
egg – 1
Beer – 1/2  (Drink other half while making recipe.) (please make sure to use only delicious Labatts Blue for best results)
Salt and Pepper – to taste

In a bowl mix dry ingredients well.
In another bowl mix egg and beer
Open another delicious Labatts Blue and drink responsibly
Add wet ingredients to dry ingredients and mix until smooth.  (This mixing process may be strenuous and time consuming so you may want to crack open another Blue during this process.)
Place fillets in the bowl and coat all.
Go to fridge and take out a couple more Labatts since this next process will take a little while.
Fry fillets in about 1 inch of oil in a frying pan until golden brown.
Shew away passer-bys that may want to steal a piece of your golden brown fish or delicious Labatts Blue.
Add salt and pepper to taste directly after fillets come out of hot oil.
Please make sure to turn off heating element or outdoor cooker after fish is all cooked since by the time you drink responsible for this process it may slip your mind.

Creamy Fish Casserole

Serves 2-4 ppl

Onion – 1
Milk – 1 1/2 cups
Flour – 1 Tsp
Butter – 1 Tbs
Salt and Pepper – to taste
Nutmeg – pinch
4 small fish filleted
corn – 1/2 cup
peas – 1/2 cup
carrots – 1/2 cup
Bread crumbs – 1/4 cup
shredded cheese – 1 cup

In boiling water place vegetables and cook for about five minutes.
Chop onion and cook  in frying pan with butter until transparent.
Add flour, Salt and Pepper and Nutmeg and stir.
Add milk to onion mixture all at once and stir until thickened
Add vegetables, fish fillets and bread crumbs.
Place in casserole dish and top with cheese.  Bake @ 375 for approx. 20 minutes.

Baked Northern

This recipe is so easy and quick to put together.  The hardest part is smelling the awesome aroma of the fish baking for 1 and a half hours while your mouth waters.

 One whole 24-27 inch northern, cut head off and guts out.
1 package chicken stove top stuffing
2 cloves garlic finely diced
2tablespoons of butter

Cook stove top stuffing as the box recommends.
Pack the inside of the Northern with the stuffing.
Lay out a couple of sheets of heavy tin foil and spread the butter and garlic on the tin foil
Wrap the Stuffed Northern in the tin foil and make sure it is tightly sealed
Bake at 350 for 1 hour and a half

When the fish is done the skin and bones will peel off and out

It is really good with ritz crackers. We usually eat it as an appetizer.

Northern Kiev

I dreamt about this recipe for a year before I actually tried it since when I do get a little time to get out fishing which is not very often I am either looking for walleye for supper or casting giant lures looking for gators.  Finally this winter I caught a couple of 25 inch Northerns through the ice to try this recipe. It's a variation of Chicken Kiev, just with a different meat.

Recipe is for 2 people

1 24-27 inch Northern, filleted with y-bones removed (each fillet must be in 1 piece with no holes through fillets)
1/2 cup butter
2 cloves garlic finely diced
2 Tbsp finely chopped fresh parsley
freshly ground pepper
2 eggs beaten
hot sauce (optional)
1 cup bread crumbs
1/2 cup corn flake crumbs
1/2 tsp garlic salt
1/2 tsp cayenne
oil for frying

In a bowl mix softened butter, Garlic, Parsley and Pepper.
Lay out northern fillet with the side you took the skin off down.
In the crevice that you removed the y-bones pack the butter mixture in.
Roll up the fillet length wise so you have a long roll.
Cut roll in three pieces and coat each piece in the flour.
Mix eggs and hot sauce and coat the pieces in that
Mix bread crumbs, corn flake crumbs, garlic salt and cayenne and then dip the pieces in that, make sure all the pieces are well coated
Fry pieces, making sure to turn frequently to brown them evenly
Once the pieces are browned evenly they will not be cooked throughout and will need to be placed in a pre heated 350 oven for about 15-20 mins.
Let cool for about 10 mins before you eat.

San Francisco Fish Stew

1 tbsp vegetable oil
1 clove garlic (peeled and finely chopped)
1/2 cup peeled and chopped onion
1/4 pound sliced mushrooms
1 -16 oz can tomatoes
1 -6 oz can tomato paste
1 -8 oz can clam juice
1 tbsp lemon juice
1 small bay leaf, 1/2 taspoon dried oregano leaves
1 tsp sugar
3/4 tsp salt
1/4 tsp pepper
1 1/2 lbs fish
1/4 cup white wine

Heat oil in Dutch oven over moderately low heat.  Add garlic, onion and green pepper and cook about 5 min. or until tender.  Add mushrooms, tomato paste, clam juice, lemon juice, bay leaf, oregano, sugar, salt and pepper.  Cook uncovered 20 mins, stirring occasionally.  Add fish to tomato mixture and cook 15-20 mins. Until fish flakes easily.  Stir in wine just before serving.